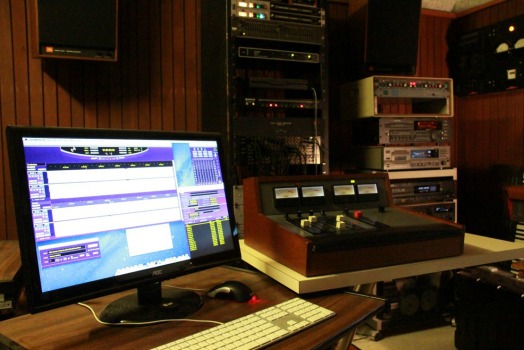 Although the tools and formats have changed over the years, the aim of great mastering remains the same – create top-quality audio that is 100% ready to be delivered to the marketplace (whatever the format).
Mastering is the final step in preparing your recording for release so it's absolutely critical that it sounds better (not just for example, louder) than intended and that the sound quality is consistent from start to finish.
Audio mastering is a real skill that has the ability to make or break a recorded piece of music/sound. For this reason we recommend mastering only with an experienced engineer at a professional facility that can guarantee your music sounds as intended.
HANDY HINTS:
Prior to your mastering booking, it is advisable to supply a concise description via email outlining what you require from your mastering session. The following information should be provided to ensure your recording is mastered efficiently and within budget:
The format(s) from which you plan to master from (e.g. audio CD, 24-bit WAV files, DAT tape etc)
Any additional editing requirements (e.g. removal of audio within tracks, inserting audio snippets, cross fades or ID info etc)
The number of tracks you are mastering, a track listing (if you have one), plus whether or not CD Text is required.
You should also advise if ISRC-codes are to be added. An example of the aforementioned might read something like this:
"There are 12 tracks to be mastered – 10 from audio CD and 2 from my laptop – with approximately 2-second gaps between tracks except for tracks 11 and 12 which run together (but Track 12 will require its own track ID). A sample CD is required to sign off on before proceeding to replication."
IF ATTENDING YOUR MASTERING SESSION:
Ensure you book ahead and are punctual
Have everything 100% organised before arrival – all relevant info and "parts" (ISRC-codes, source WAV or AIFF files or audio CD, track listing, etc) required for the mastering process
Listen to suggestions the mastering engineer has to make regarding the mastering. Any mastering professional is familiar with his speakers and equipment and is concerned only with the audio quality of your final master
Once having thoroughly auditioned your sample CD/digital file provided, advise via email whether you are happy with the overall sound and ready to proceed to replication/dispatch stage. Should there be any adjustments necessary, explain precisely what is required and request another sample CD/file if necessary.
CONCLUSION:
Audio mastering is the final step in preparing your recording for release and is the last opportunity to make any technical adjustments to your end-product (i.e. replicated CDs).
Mastering audio requires a great deal of objectivity and precision. Many people make the common mistake of thinking mastering is something anyone can do in any home-studio situation. This is not the case. Unless your studio is set up specifically for mastering, we advise against this.
A mastering engineer offers an experienced set of ears and operates with efficiency state-of-the-art specialised audio-mastering equipment. Mastering at a dedicated facility such as Stebbing Recording Centre is undoubtedly the best way to ensure your recording is represented at the highest quality possible.