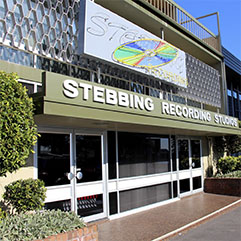 The move into the digital age is a complement to Stebbing's ongoing CD and DVD production, and the requests of the few bands (– yes, some bands still want cassettes) – who want their product recorded, mastered and packed in cassette shells.
The studios today boast not only a treasure trove of well-maintained analogue equipment, but also the latest technologies, including: high-end converters, Pro Tools digital work stations, soundBlade mastering software and more.
The Stebbing team also act as digital distributors for independent labels and artists – enabling artists to not only record, manufacture and output their music on-site, but get it up for online sale too.
For almost 70 years, Stebbing has stayed true to its commitment of producing a recorded sound that re-creates the experience delivered by its musicians. Be it an in-club environment, a studio, or an orchestra pit; the Stebbing team pride themselves on their versatility to produce product that makes for the best possible listening experience – no matter the genre or medium outputted.