Exciting News - Th'Dudes are off to the NZ Music Hall of Fame
29 September 2019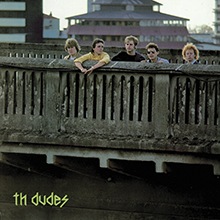 It's THAT time of the year again – and this year, at the 2019 Vodafone New Zealand Music Awards it is Th'Dudes who will be inducted into the New Zealand Music Hall of Fame.

The date is Thursday November 14 and the venue is the Spark Arena in Auckland. And for Dudes' fans who have followed them since their earliest gigs in the mid-1970s, it'll be a chance to see and hear the band perform live at this high profile event.
The well-deserved acknowledgement of Th'Dudes' enduring contribution to our music landscape comes 40 years on from their first recording session at Stebbing's Jervois Road studios.
Th'Dudes famously comprised Dave Dobbyn, Ian Morris, Peter Urlich, Bruce Hambling, and then Lez White who took over from their original bass guitarist Peter Coleman who departed before the band put down their first recordings.
By May 1979, the boys from Th'Dudes were ready for the recording scene. The proof is in the songs they wrote and recorded in the 12 months after that, which still get plenty of airtime all these years on.
Legendary award-winning producer Rob Aickin (ex-The Clevedonaires) was the man at the helm in the studio when the band put down multiple tracks including their debut single 'Be Mine Tonight'/ 'That Look in Your Eyes'.
One month later in June 1979, the band's first album 'Right First Time' was released on Stebbing's Key label and earned rave reviews.
In November that year, they released 'Walking in Light' that had been recorded during those first sessions. It was a song that lasted only one week on the charts at #50 which, to this day, is one among many of the band's most recognisable songs.
By early 1980, Th'Dudes had all the tracks down for their second album 'Where Are the Boys'. This album included 'Bliss' which was their biggest chart success, peaking at #25 in May 1980 about the time the band split up.
Th'Dudes' connection with Stebbings goes beyond their 12-month tenure in the recording studio. Alongside Rob Aickin, Ian Morris worked as the mix-down engineer on the album 'Right First Time' with Denis Odlin the recording engineer on that project.
Ian had joined Stebbings straight from school, as a dubbing engineer (then junior recording engineer), just as Th'Dudes were getting serious attention on the club scene. Big dreams, hard-work and Ian's talent as both a songwriter and as a wildly creative recording engineer underpinned Th'Dudes' sound that has inspired musicians ever since.
In 1979, Th'Dudes won the National Music Awards' Top Group award and Single of the Year award for 'Be Mine Tonight'. In 2019, they stand alongside other Hall of Fame inductees including Sharon O'Neill, Bic Runga, Dragon, Hello Sailor and Ray Columbus and the Invaders.
Read more about Th'Dudes, their Stebbing connections and Ian's insights in 'Wired for Sound - The Stebbing History of New Zealand Music' (Bateman Books) to be published in early November.