Excellent reviews all round for 'Wired for Sound'
04 March 2020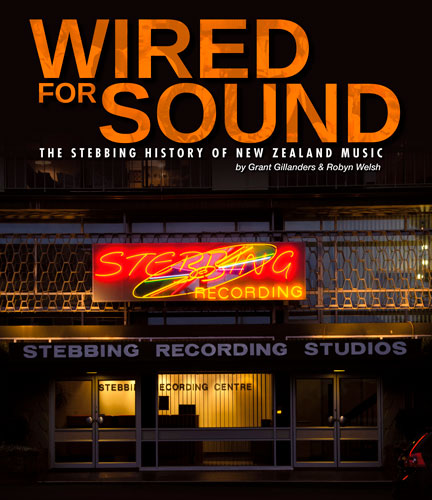 Wow, excellent reviews all round for 'Wired for Sound – the Stebbing History of New Zealand Music."
You saw all the fanfare around our book launch in November and the subsequent sales leading up to Christmas. Now fans right throughout New Zealand are enjoying their copies and letting us know.
Whether it's the music of the 1950s, the story behind the lost 78 records from Stebbing's 1950s plant, the vibe at the Galaxie nightclub or the little red Fiat of Margaret's that ended up on the roof of a building, there is a lot to discover.
Read what these people have written about ''Wired for Sound" (by Bateman Books) It's 345-pages with 400-plus images. Buy it at your nearest bookseller, online or from the studio here in Jervois Road, Herne Bay.
"Even if you've read everything published prior to this book on Zodiac, you'll still find a ton of stuff that you didn't know, and facts that will turn the head of any NZ music history obsessive (like myself)", Simon Grigg, Audioculture, record producer, writer.
"A magnificent book" Trevor Reekie, writer, broadcaster, Pagan Records, musician.
"This was a book I simply could not put down, reading it from cover to cover in one night, to be totally blown away by its depth, brutal frankness, honesty and humour"- Murray Bone, music enthusiast, collector and archivist, Waipukurau, New Zealand.
"Congrats on a beautiful book! Fantastic production values and meticulously researched and written. I'll be recommending it in any way I can." Dr Ian Chapman, author and senior lecturer in Music at Otago University.
"Congrats on the book! It's such an awesome product." Flying Out Book Store
"Wired for Sound is a very well presented and enjoyable overview of a life in music, marketing and technology by writers well placed to tell the story" Graham Reid, music writer.
"Finally got my copy of this awesome book that brings back many memories especially the days with Human Instinct," Wayne Carr, former roadie of the Human Instinct.
"It's a lovely book, a cultural artefact … the history is just so downright fascinating and it's beautiful to look at. Read with a Zodiac LP played loud." Steve Braunias, Newsroom music reviewer, author.
"I have been both enthralled and delighted to read such a comprehensive and accurate account of the recording industry in New Zealand! The accuracy and detail should be commended to all the contributors as well as the authors.
"Many historical books these days are a poor attempt by a few embellishers to make an impression or a return on investment. Wired For Sound is the exact opposite of this formula. A magnificent tome of superb photos and ultra high-quality paper, in a coffee table presentation that meets and exceeds all expectations." Frank Curulli, hi-fi music and stereo legend, Auckland.
"Their legacy (the Stebbings) is now served not only by a raft of great Kiwi recordings, but also by a book that befits the history of a local musical institution." Phil Gifford, broadcaster, North & South magazine music reviewer.
"A wonderfully interesting and valuable record of New Zealand's music history" – Richard Thorne. NZ Musician magazine.